All jumping ropes for boxing aren't made equal.
When looking for a boxing jumping rope, you want one that can help you improve your footwork, increase stamina, and build effective cardio – all crucial elements for fighters looking to excel in the ring.
The best jump ropes for boxing promote smooth, fast rotations and feature durable materials to withstand rigorous training sessions.
Additionally, a good jump rope should be adjustable and comfortable to help you focus on your workout and achieve the desired results.
That said, here's a rundown of top boxing jump ropes rated by functionality, build, and user feedback.
Top 5 Best Jump Ropes for Boxing
Whether you're a beginner or a seasoned boxer, these jump ropes promise to elevate your training session and improve your overall fitness level and agility in the boxing ring.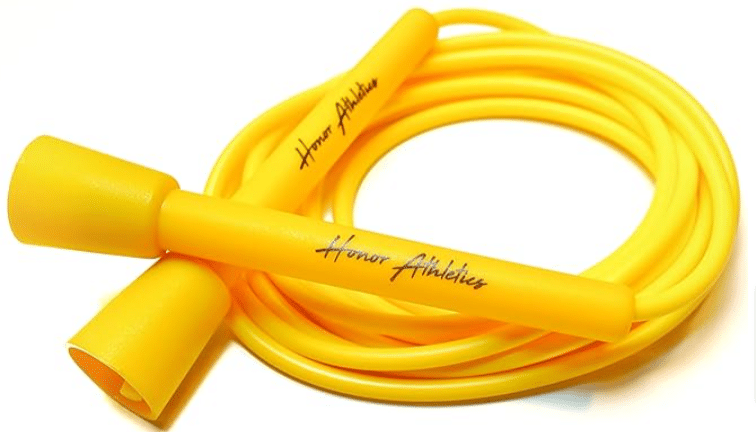 The Honor Athletics Speed Rope is a solid addition to any boxing routine.
First off, it features a 10ft (3.05m) adjustable length. That way, you don't have to worry about the jump rope being too short or too long. The package even comes with included instructions, so you can quickly set it to your preferred length, whether a beginner or a pro.
Meanwhile, the 5mm thick vinyl PVC gives the Honor Athletics Speed additional weight. The extra weight makes it easy to control the momentum, enabling you to amp up your workout intensity.
The handle design is comfortable and lightweight, essential for a good grip.
What's practical about the Honor Athletics Speed Rope is how it improves your cardio workouts. It maximizes your effort, so you get more out of your time. Plus, it's portable, so you can use it at home, in the gym, or outdoors.
In addition, the rope is durable and built to last, ensuring it'll be a reliable workout companion.
Key Highlights
Handle Material- Solid Plastic
Cord Material – Ultra durable 5mm PVC
Weight – 3.88 oz
Handle Length 5.5 inches
Rope Length – 10ft (3.05m) Adjustable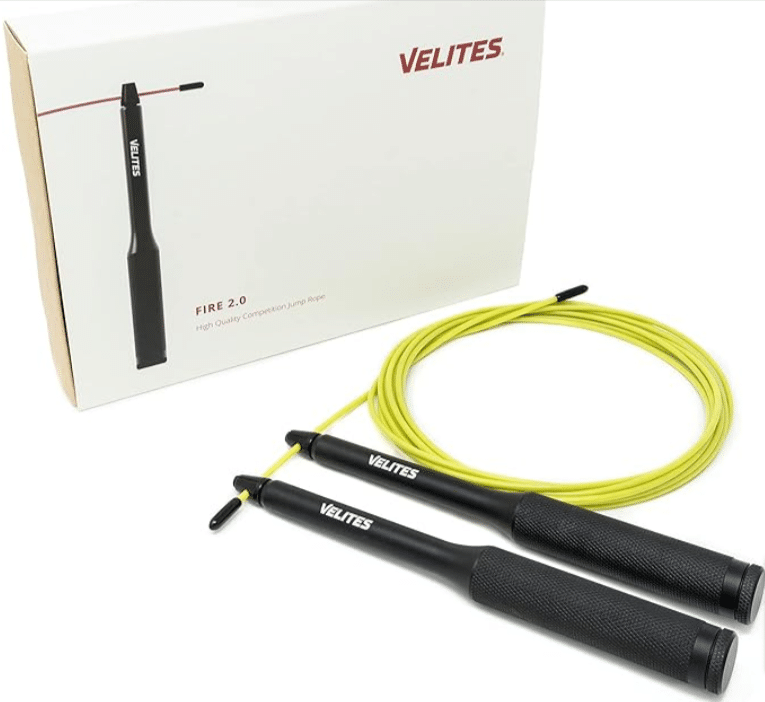 The Velites Ballasted is an advanced boxing skipping rope with a threadable low stopper for quick length adjustment.
It is compatible with Velites' jump rope weights, enhancing resistance and amplifying muscle development.
Crafted from anodized aluminum, this rope boasts an ergonomic design with a rugged bar knurling finish, ensuring a firm grip.
Meanwhile, the Vropes Fire 2.0 cap system ensures a seamless jumping experience. In addition, the non-stalling, non-sticking mechanism and the lightweight design guarantee a smooth and efficient workout.
Boxing demands agility and speed, especially when doing double unders.
The Velites Ballasted comes with exclusive access to the manufacturer's Jump Rope Academy. The course is a step-by-step guide to help you swiftly transition from single to double unders.
And to customize your experience further, you can adjust the rope's diameter to improve your jump speed. That way, you can find the right balance to amp your workout session, whether you're a beginner looking for a 2.5 mm cable or a regular user scouting for a 2 mm jump rope.
Key Highlights
Threadable low stopper
Bar knurling finish
Vropes Fire 2.0 cap
Jump Rope Academy access
Adjustable diameter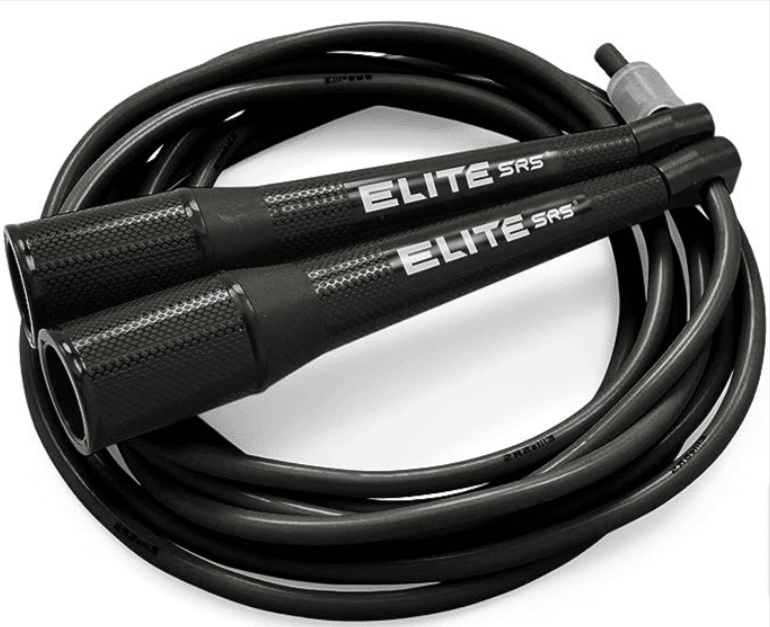 The EliteSRS Boxer 3.0 is a top-tier boxing skipping rope for consistent jumping and cardio training. It comes with breakage-resistant 5.5″ plastic polymer handles and a 5mm PVC cord for durability.
The PVC cord features an integrated string core, preventing unwanted "stretching" during intense double unders—a crucial feature for boxers. The rope measures 10′ long. The 5.5″ handles provide the flexibility to efficiently complete various jump rope techniques.
For boxers focused on speed, the EliteSRS ensures efficient control. Its smooth-action dowel and ergonomic grip with dimpled handles provide a firm grip, especially during sweaty workouts. Adjusting the rope's length is straightforward, thanks to its snap-lock cord ends.
EliteSRS's Boxer 3.0 is a good boxing jumping rope for fighters looking to add power and speed to their routines. Whether you're into freestyle or competitive workouts, this rope delivers.
Key Highlights
5.5″ plastic polymer handles
5mm PVC cord with a string core
Speed Control feature
Ultra-durable construction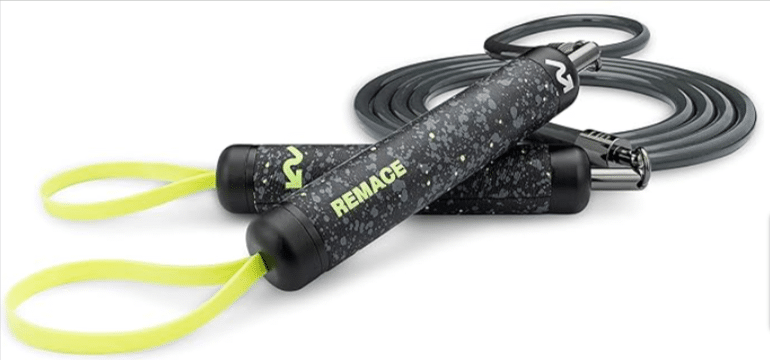 The Remace Level 2 Weighted Jump Rope Set is one of the best jump ropes for boxers looking to tone muscles and build strength.
The rope features a tangle-free design for a smooth, flawless jumping experience.
A good jump rope for boxers must have solid handles, and the Remace doesn't disappoint. It comes with thick ergonomic handles with a comfortable grip, ensuring your sessions are productive and comfortable.
Meanwhile, you can count on the removable 1/4 lb. handle weights to enhance your arm toning. For varied intensity, the Remace Set has a 1 lb. and a 2 lb. rope, giving you flexibility in your workouts.
Moreover, this rope is reasonably priced, making it a good pick if you're on a tight budget. The best part is that the Remace Jump Rope delivers effective workouts at just a fraction of the cost of traditional fitness alternatives.
You'll love this rope's quality and durability. The solid aluminum handles, coated with high-quality grip material, promise to withstand intense sessions. Plus, the Remace can endure the harshest of environments or conditions, ensuring longevity.
Key Highlights
Level 2 strength training kit
1/4 lb. handle weights for arm toning
Removable handle weight
Tangle proof design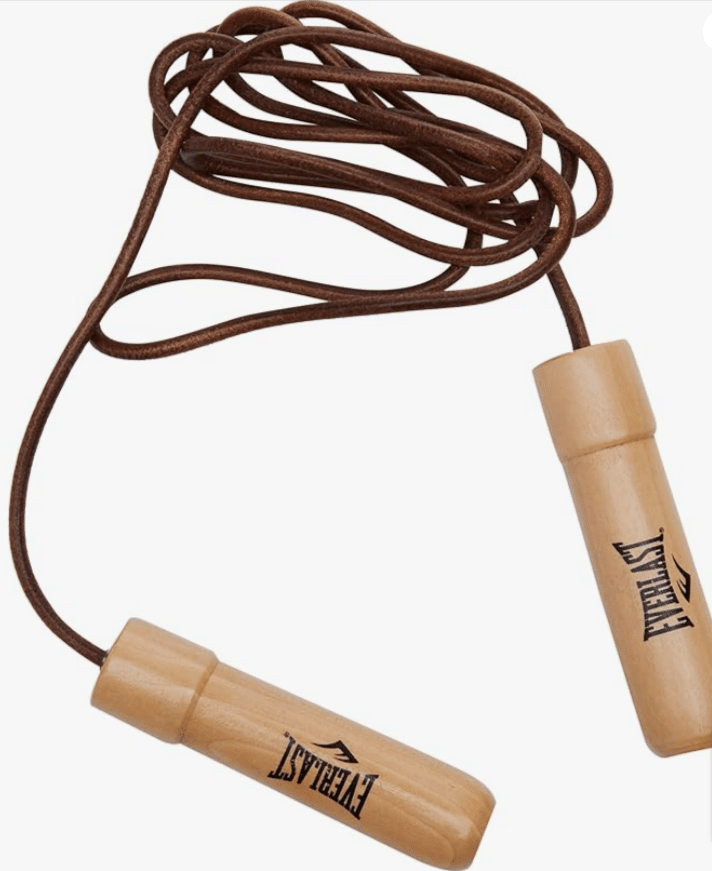 The Everlast Leather Non-Weighted Jump Rope combines a balance of tradition and modern design. Constructed from genuine leather, this rope guarantees durability and a classic feel.
Are you looking for speed in your routines? The rope boasts a precision ball bearing, ensuring you get that extra speed vital for high-intensity workouts and mastering techniques like double unders.
Comfort isn't compromised, either. With contoured and polished wood handles, every grip feels natural and smooth, allowing for prolonged sessions without hand fatigue.
What's more, peace of mind comes as a standard, thanks to the one-year warranty. The Everlast Leather Jump Rope promises a reliable and efficient experience with every swing, making it a valuable addition to your boxing routine.
Key Highlights
Contoured and polished wood handles
Genuine leather design
One-year warranty
Precision ball bearing for additional speed
How to Choose the Best Jump Rope for Boxing
While the five jump ropes for boxing above offer remarkable features, you need to know what to look for in a rope before investing your money,
Here's a breakdown of factors to consider when looking for the best jumping rope for boxing.
Material
Jumping ropes for boxing are often available in PVC, leather, and wire. Here's what you should know about these materials:
Leather: Traditional and durable leather ropes offer a heavier swing, perfect for building stamina. However, they can be slower and might require a break-in period.
PVC jumping ropes are versatile and usually more affordable. They're lightweight, making them ideal for speed and freestyle jumping. At the same time, they might not be as durable as leather or wire ropes.
Wire: Often coated in nylon or PVC, wire ropes are the fastest, making them excellent for advanced jumpers perfecting their double unders. They are, however, less forgiving of mistakes and can sting on mis-jumps.
Handle
The handle can affect your workout as much as the rope material. A boxing rope's handle can either be weighted or non-weighted.
Weighted handles help build arm and shoulder strength but can tire you out faster. Non-weighted handles are generally better for speed and prolonged workouts.
Also, ensure the handles have a comfortable grip to prevent blisters and hand fatigue.
Length
Always pick a rope that corresponds with your height.
As a rule of thumb, stand on the middle of the rope and pull the handles up — the handles should reach close to your armpits. If you're a beginner, you might prefer a slightly longer rope, while seasoned boxers often are better off with shorter ropes to enhance speed.
Weight
Pick heavier ropes for strength and lighter ones for speed.
Heavier ropes, like beaded or leather, provide more resistance, thus building strength. On the other hand, light ropes, often made from PVC or wire, are great for increasing speed and agility.
Adjustability
You might want to adjust your rope as you progress in your training. Some ropes offer adjustable lengths, and some handles allow weight additions. These features can be particularly beneficial if multiple people use the same rope.
Durability
Boxing training requires intense, frequent rope work. Ensure your rope can withstand heavy use. Look for ropes with strong construction and reinforced handles. It is worth investing more upfront for a rope that lasts longer.
Price and Brand Reputation
Reviews and price often correlate with quality, but not always, so you must research. Sometimes, an affordable rope from a reputable brand might be better than an expensive one from an unknown brand.
Bearing System
The bearing system within the handle affects the rope's rotation. Opt for a rope with a high-quality bearing system for smooth and fast spins. This becomes particularly crucial for advanced techniques like double unders.
Level up With the Best Jumping Rope for Boxing
To truly level up in boxing, getting the right equipment is essential.
A jump rope tailored to your needs can be vital, refining your agility, speed, and strength.
Investing time in selecting the best skipping rope for boxing ensures a quality workout and accelerates your boxing progression.
That said, you can't go wrong with the five boxing jump ropes recommended in this piece.
To your success!
Frequently Asked Questions (FAQs)
What Jump Ropes Do Boxers Use?
Boxers typically use jump ropes that prioritize speed, agility, and durability.
Key features include lightweight but sturdy materials like PVC or wire cables.
These ropes often come with ball bearings in the handles for smooth rotations and rapid spinning, essential for perfecting double unders.
Handles are ergonomically designed for a comfortable grip, aiding in prolonged workouts. Adjusting the length is crucial, ensuring the rope suits the boxer's height and skill level.
Durability is paramount, as intense boxing training requires ropes that can withstand frequent use. These features collectively ensure an effective workout tailored to a boxer's needs.
What Jump Rope Does Mayweather Use?
Floyd Mayweather, one of boxing's all-time greats, is known for his intense training routines and meticulous attention to detail regarding his equipment.
Floyd prefers the RA Speed Rope, commonly called 'The Money Rope.' The jump rope stands out for its premium quality and recognition worldwide.
The rope's popularity is so widespread, making it arguably the most recognized self-branded skipping rope globally.
The endorsement and use by an elite athlete like Mayweather further cement the rope's reputation in the fitness and boxing community.
What Is the Most Effective Jump Rope Style?
While there are many jumping rope styles for boxers, the alternate footstep jump is one of the most effective.
The technique is widely adopted in many training regimens and is a top choice for high-intensity jump rope workouts and weight loss fitness challenges.
The reason for its prominence is the high level of intensity that can be achieved with this style.
Rapidly alternating weight between feet while jumping boosts cardiovascular fitness and engages multiple muscle groups, leading to increased calorie burn.